Sign up for Infotech Managed IT Services today. Consolidate your backups, pc maintenance, email, and firewall management to a one stop shop for all your needs. You will immediately experience the benefits of team collaboration, reduced operation costs, enhanced IT longevity, and network security.
IT Asset Life Cycle Management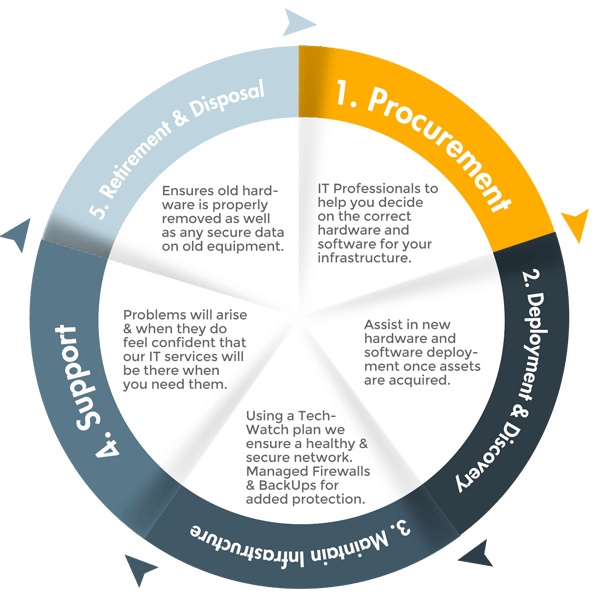 Procurement
IT Professionals to help you decide on the correct hardware and software for your infrastructure.

Deployment & Discovery
Assist in new hardware and software deployment once assets are acquired.

Maintain Infrastructure
Using a TechWatch plan we ensure a healthy & secure network. Managed Firewalls & BackUps for added protection.

Support
Problems will arise & when they do feel confident that our IT services will be there when you need them.

Retirement & Disposal
Ensures old hardware is properly removed as well as any secure data on old equipment.
Managed IT Services Benefits
Continuous monitoring and management.
Team collaboration with experienced technology experts on all design and implementation phases VS single threaded employee.
Reduced operating costs by eliminating the need for in-house Information Technology infrastructure and support among client-selected IT functional areas of business.
Enhanced IT longevity & flexibility through scalable and adaptable methods and services.
Increased business efficiencies via custom on and off-the-shelf solutions that target clients' specific needs.
Enhanced Network Security on all levels.